Between the years 2003 and 2006, he noted that Israel erected a security fence in the capital, and "one striking feature of the period was that 70,000 Palestinians left what would become the side of the fence that included most of the Palestinian population and moved to the Israeli side of the fence."
D.v.s. alla araber inom Jerusalems stad, där många områden är helt arabiska, de vill ha israeliska socialförsäkringar, sjukvård, även när de inte vill byta till Israeliska papper.
Så vad gör Israel med alla araber som flödar in, en del med och en del utan Israeliskt ID-kort? Som kommer enbart på Abbas uppmaning att döda judar så gott de kan?
[Fatah Twitter account, Oct. 12, 2015]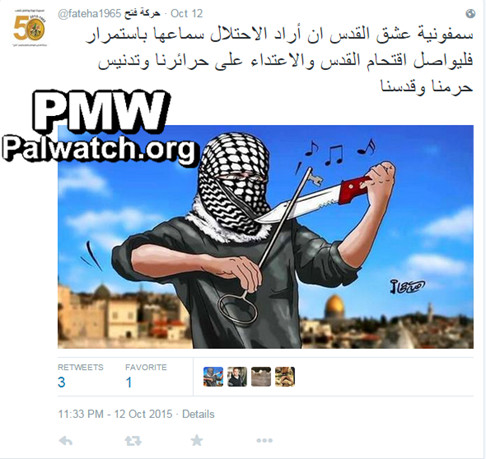 Samtidigt som hela Västvärlden uppmanar judar att sluta försvara sig.
Den Israeliska regeringen är ytterst tvetydig mot sina medborgare, speciellt de som bor i de gamla bibliska områdena Judéen/Samarien. De anklagar kontinuerligt nationalister i dessa områden för att försvara sig, mot både araber och polisbrutalitet,
samtidigt som de har relaxat vapenlagarna
. Man undrar om Netanyahu försöker tvinga fram den urgamla indelningen i Konungariket Israel och Konungariket Judah. Inte särskilt konstigt om dessa människor, trakasserade från två håll, protesterar kraftigt, men aldrig återgivet i utländska media. Regeringen Netanyahu har
reagerat ytterst valhänt
på många sätt.
Här en dagsfärsk artikel:
Three Jews given 5 more days in jail for pursuing Arab terrorist who hurled a rock at a female motorist outside Yitzhar.
By Shlomo Pyotrkovsky
First Publish: 10/15/2015, 3:58 PM
The three arrested men
Honenu
Three Jews who were arrested on Wednesday as they pursued an Arab terrorist who threw a rock at an Israeli car had their arrests extended on Thursday by five days, reports the Honenu legal aid organization.
The three residents began chasing the Arab terrorist after he launched the potentially lethal attack against a female motorist from Samaria's Yitzhar, as she drove on the road leading to the town. A 14-year-old Jewish youth who was with them has been released to house arrest.
At a hearing in the Petah Tikva Magistrate's Court, the police tried to connect the three arrested residents with an incident that took place after their arrest at a nearby olive grove, where the terrorist is suspected to have thrown the rock from. In that incident, a British anarchist and an Arab man were wounded during a clash with Jewish residents who arrived in the grove.
Judge Nahum Sternlicht partially accepted the argument of Attorney Aharon Rozeh, who represented the arrested men on behalf of Honenu, and ruled that there is no evidence connecting them to the later clash.
However, the judge decided there was a reasonable suspicion that the three were connected to a criminal offense, obstructed an officer and resisted arrest, and he therefore extended their arrest by five days.
The arrested men argue that they did not resist arrest, and countered that several of them were physically beaten by the officers. One was even wounded in his leg and required medical treatment.
The incidents in question began on Wednesday after an Arab terrorist hurled a rock at a female resident of Yitzhar who was driving on the road leading to the town - a stretch of road that has never been targeted in rock throwing attacks until now.
Due to the serious incident, which is of a type of attack that has resulted in the
death of Jewish victims
in several cases, residents were called up to search for the terrorist.
"A false arrest"
The residents spotted Arabs and European anarchists in the adjacent olive grove, at which point two Arabs broke off from the group and started fleeing upon the sight of Yitzhar's military security coordinator.
At that point the three men together with the 14-year-old pursued the two men to try and outflank the suspected rock thrower. One of the three is a Yitzhar resident and father to six children, the second is a resident of nearby Elon Moreh and father to four children, and the third is a 19-year-old youth.
According to the three, they saw one of the two Arab suspects wearing a black shirt and signaled to an IDF jeep to stop and apprehend him, but at the same time a police car pulled up and arrested them. Several of those arrested had scarves wrapped on their faces at the time, and therefore the police suspected that they had arrived to conduct "price tag" vandalism.
The residents reported that another Arab who fled from the olive grove was apprehended by another IDF force adjacent to where the four Jews were arrested, thereby proving their claims that they were trying to outflank the Arabs who fled from the security coordinator.
After the arrest, the residents continued to come down towards the olive grove that the terrorist had apparently come from in his attack, and there a commotion took place during which the British anarchist and Arab were wounded.
Honenu notes that despite police claims that the four may have been involved in the incident, it took place after their arrest and hundreds of meters away, in a hilly terrain providing numerous barriers between them and the site of the clash.
"The court did well in its decision to release the minor from arrest," Attorney Aharon Rozeh said.
"I figure that the three adult arrested individuals will also be released, because the judge ruled there is more than a little doubt regarding their involvement in hitting the Palestinians and the British anarchist."
Rozeh added, "it is wrong to leave them in detention for any sort of resistance to arrest, as it appears to have been a false arrest by the police."